97% of employees are ready to join a new job and embrace remote workforce onboarding during the COVID-19 pandemic.

The question is, are you prepared to offer them an engaging and immersive experience?
Our topics:
With work from home becoming the new normal, many companies struggle to modify their approach and onboard new employees in a virtual environment.
What is it that needs to be done to offer an exceptional onboarding experience?

How can you ensure that the new hires understand your business values, mission, and culture?

Is it possible to create a fun, welcoming environment online that keeps the new hires engaged and encourages learning?
Let's find out!
The importance of an Effective Employee Onboarding Process
The importance of hiring the right employees, keeping them engaged, and investing in their growth and development is now more than ever. Starting a new job can be intimidating and challenging at the best of times with a new culture to adjust to, skills to acquire, and coworkers to mingle with. And now, the remote working situation has made this task a whole lot harder.
The virtual onboarding experience can feel impersonal and distant. It can be anxiety triggering, especially if it fails to communicate clear expectations to the new employees and navigate them through the organization. A poor onboarding process may provide more confusion than clarity, making it hard for the new hires to develop a sense of belonging to the company, let alone team spirit. Consequently, their chances of quitting and leaving the company during the first few weeks will be higher.
And do you realize what the cost of replacing an employee is?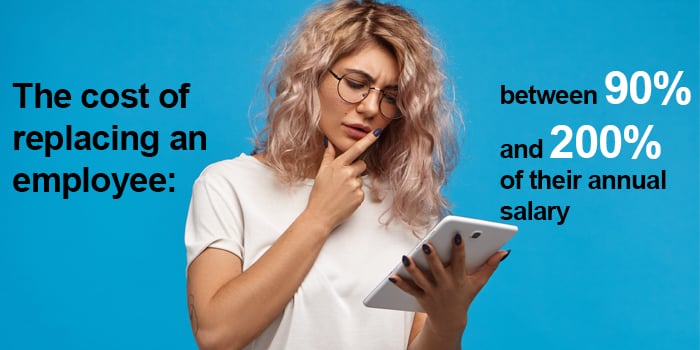 According to SHRM, it is somewhere between 90% and 200% of their annual salary. Columbia University researchers think it is 150% depending on the position of the employee.
Oftentimes, there are several hidden and delayed costs as well. Hence, the true cost of employee turnover is more expensive than you may think. And don't just think about the dollars! The turnover costs go beyond that. Think:
Lower employee morale

Reduced engagement

Compromised organizational performance

Additional training for the new hires

Loss of knowledge retention

On top of this, when you are busy focusing on recruiting new employees after every few weeks or months, you won't have much time left for encouraging and engaging the top performers in your company.
The bottom line is that you must start investing in organizational care from day one! You showed the new employees you care by hiring them. Now, it's time to take it a step further and ensure that they are well-integrated into your organization. Simply put, you can't retain top talent during these challenging times without a successful remote workforce onboarding process.
5 Common Mistakes You Must Avoid While Onboarding Remote Workforce
Many organizations are falling short of the mark when it comes to onboarding remote employees during the pandemic. Let's see which of their mistakes are coming in their way of providing an exceptional onboarding experience.
1.
Offering a Misleading Job Description
The biggest mistake companies make during remote onboarding is that they don't bother reviewing the job listings.
Before you prepare for the employee onboarding process, go through the job listing and see if the roles and responsibilities for that particular position have shifted during the pandemic. The job description must reflect the actual tasks the new hire will be expected to perform. If you don't convey the changes in the role clearly, the success and job satisfaction of the new employee will suffer.
Make sure you are transparent about all the changes. Don't hesitate to explain the work from home status and the future of the role. This will ensure that the new employees are fully aware of the situation and are the best fit for the position and your company.
2. Starting the Onboarding Process on the First Day
Starting the onboarding process on the new employees' first day is also a huge mistake you must avoid at all costs.
Forward-thinking businesses commence the process well in advance. Consider getting in touch with the new hires a couple of days before their first day at work and request them to do all the paperwork.
Most importantly, you may have to deliver company-issued monitors or laptops, devices, and other hardware if they don't have a work-appropriate setting at home. The next step will be to install the necessary software and programs. It's best to schedule a quick meeting with the new employees and your IT team to address all technology-related concerns. It'll also be a good time to share your security policies and standards.
With all of these chores out of the way, the new hires will find it easy to dive right into work on their first day.
3. Not Welcoming the New Employees
Just because face-to-face interactions aren't possible during the pandemic, it doesn't mean that you can forget about welcoming the new hires. Without introductions, they will feel disconnected from the team.
To begin with, you can host a virtual welcome party for them. All the team members can get to know the new employee on a video call in a relaxed, friendly environment. Moreover, you can always send them a greeting card with flowers or a treat to make them feel welcomed.

4. Not Setting Clear Goals and Expectations
All employees need to know what's expected of them so they can measure progress and track performance. This has become more important now than ever given the remote work environment.
As part of the employee onboarding process, you must work with new hires to define roles and set goals. Shed light on how these goals will help achieve the company's larger mission. Give them a way to connect their achievements with the firm's success.
You can also go the extra mile and have a senior employee in a similar role work with the new employees to guide them through their goals.
5. Devaluing Feedback
While remote workforce onboarding is still a new concept, you must jump at every opportunity to get feedback from the new hires. Ask them what they liked and disliked about the onboarding experience. See if they understood their goals and responsibilities and feel welcomed. Ongoing feedback on your onboarding process will help you make adjustments and modifications to ensure maximum comfort, ease, and convenience for the new employees.
Solve All Your Virtual Onboarding Problems with a Microlearning Platform
You may be surprised to hear that 88% of employees report their employers didn't do a good job at onboarding.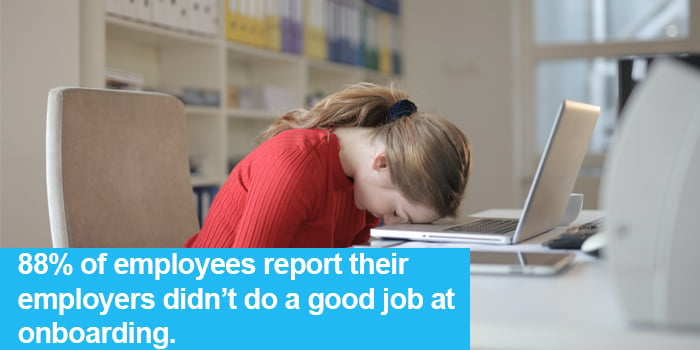 You must understand that learning new skills and getting used to the new company's processes is a gradual process. It can't happen overnight. Hence, it makes sense to provide the new hires with ongoing support and training resources so they can get familiar with their jobs at their own pace.
That being said, continuing onboarding shouldn't feel like a drag. Training new employees in an engaging manner is the key to boosting productivity, improving time efficiency, and enriching the remote workforce in the long run.
The best way to welcome new employees and share the logistics of their responsibilities during these challenging times is by taking a microlearning approach to onboarding. Instead of sharing everything on the first day, consider introducing your procedures and policies gradually, allowing the new employees to digest and retain the information. With the help of a microlearning platform, you can divide crucial information into smaller chunks to avoid information overload.
Microlearning also works wonders for providing bite-sized feedback to help the new hires gain a deeper understanding of their role and duties.
Top Microlearning Activities for Remote Workforce Onboarding
Here are some microlearning activities to help you take your virtual onboarding game to the next level.
Microlearning Journeys
By creating microlearning journeys for each department, you can introduce the new employees to the teams with maximum efficiency. The new hires will not only get to meet everyone virtually but also explore each team's perspective on the organization's processes and workflow. These essentials will help them acquire the agility skills required to achieve personal goals and contribute to organizational success.
Self Assessments
Self-assessments give the new hires a chance to track their progress and identify areas of improvement. You can also provide them with additional resources to help polish their skills. The idea is to target one skill or task at a time. The employees may retake the test to monitor their progress.
Skill-based Branching Scenarios
Skill-based branching scenarios allow you to build vital skills in the new hires using realistic characters and situations. The employees will have different choices and will be able to see the outcomes of their actions.
How to Help Remote Employees Blend into Your Company Culture
Offering a smooth and pleasant onboarding experience is the first step to welcoming new employees. You can then help them blend into the company culture by providing ongoing support and training.
You can create your own training courses and lessons that are easily accessible for all employees anytime, anywhere on all digital devices. You'll be able to create engaging gamified versions of lessons to ensure that learning doesn't feel like learning.
The new hires won't be overwhelmed with new information and their chances of retaining the new knowledge will be significantly higher. Besides, the existing workers will be able to chat with and teach new employees about the company processes and culture. This will ensure maximum interactivity despite everyone working from home.
Using the Analytics Power of a SaaS Microlearning Platform to Improve the Onboarding Experience
The best thing about using a SaaS microlearning platform is that you can leverage its analytics power to provide an unmatched onboarding experience to your future employees.
It's no secret that the key to creating a successful remote workforce onboarding strategy is data. All the information and feedback you gather about people who liked and disliked your onboarding approach and the struggles they go through give you the opportunity to modify and optimize your strategy and streamline the virtual onboarding experience to ensure maximum employee satisfaction.
Let's Incorporate Microlearning into Your Remote Workforce Onboarding Process
Microlearning will be the ideal addition to your virtual onboarding program, allowing the new employees to explore their duties and improve their skills in a fraction of the time. Companies investing in microlearning-based onboarding have reported excellent outcomes during these unprecedented times. The employees who receive a great onboarding experience are twice as likely to reduce time to proficiency.
So what are you waiting for?
It's time to create useful and engaging training materials for the new hires and give them a successful start in your organization!